The UGC chairperson, M Jagadesh Kumar, emphasized that the new portal will benefit both applicants and universities by streamlining the recruitment process and providing real-time data on vacancies and applications under consideration. The portal, curec.samarth.ac.in, will also feature personalized dashboards for applicants to manage their application process and filters such as location, designation, subject, experience, and education level to view relevant job openings.
The University Grants Commission (UGC) has launched a unified portal for faculty recruitment in central universities, providing a consolidated list of job openings and a simple interface for applicants to apply. The portal will help UGC hand-hold universities to fast-track the recruitment process and ensure the reservation policy is followed. The portal is not aimed at centralising faculty hiring for all central universities, which will continue to have their autonomy in the recruitment process.
UGC Launches Unified Portal for Recruitment of Faculty to Central Universities
The launch of this portal comes at a time when nearly 31% of faculty positions in central universities are vacant, as reported by the Union Government. While some faculty unions expressed concerns about centralizing faculty hiring, Kumar clarified that the central universities will retain their autonomy in the recruitment process.
With this unified portal, the UGC aims to help universities fast-track the recruitment process and ensure that the reservation policy is followed. The central universities will continue to advertise the positions, collect online applications, shortlist applicants, conduct interviews, and appoint faculty members as they did earlier, but all activities will be carried out through the admin dashboard for each university on this portal.
Importance of CU-Chayan Portal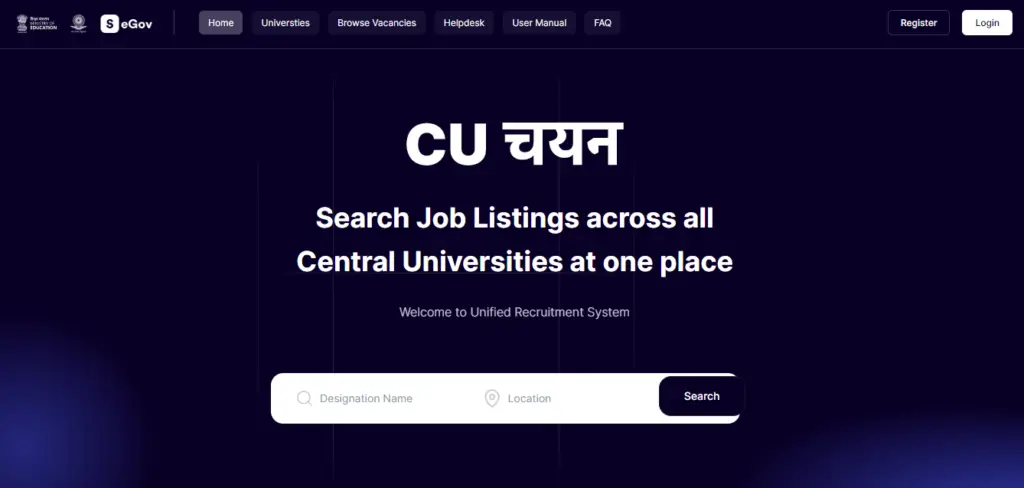 The CU-Chayan portal is a recruitment platform designed specifically for faculty recruitment in Central Universities.
It serves as a common platform for job advertisements, vacancies, and postings across all Central Universities.
The entire registration and application process is conducted online, including application, screening, and alerts for portal users.
A personalized dashboard is provided to applicants for managing their application process, offering transparency and access to all aspects of the recruitment process.
It offers a variety of features to assist applicants, including a consolidated list of job openings from all participating universities, a singular login for applying to any of the universities, and customized dashboards to aid in the application process.
Applicants can filter job openings by university name, location, job title, category, subject, employment type, experience, education level, and more.
For universities, the platform offers adjustable advertising regulations, real-time application tracking, personalized admin dashboards, and a fully online process that includes payment gateways from initial application to screening.
Built-in email communication tools and online feedback and reference options for referees are also available, along with real-time analysis and insights into the application process.
Members of the university's Screening Committee can view applicant details, generate point or research scores, and verify uploaded documents against each entry.
The screening committee's comments and scores can be saved within the portal for easy reference.
In conclusion, the launch of this portal is a significant step towards improving the recruitment process in central universities and providing equal opportunities for qualified applicants across the country.
CU-Chayan Portal Website Link URL: curec.samarth.ac.in