SCIgen is a software that creates computer science research papers including graphs, figures, and citations at random. It constructs all components of the papers using handwritten context-free language. Originally established in 2005 to highlight the lack of inspection of conference submissions, the generator was later exploited to make significant numbers of fraudulent conference submissions, leading to the retraction of 122 SCIgen-generated papers and the development of detecting tools to counteract its usage.
History of SCIgen – An Automatic CS Paper Generator
Jeremy Stribling, Max Krohn, and Dan Aguayo, all Ph.D. students in computer science at MIT, developed a software that generates absurd computer science research articles. "To highlight the lack of peer review at low-quality conferences that effectively swindle researchers with publishing and conference fees," says Stribling, who now works as a software developer in Palo Alto, California.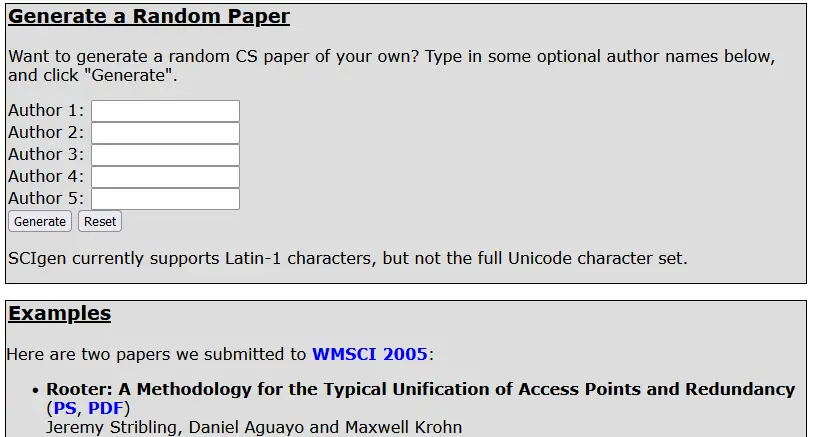 SCIgen Generated Papers in Springer Conference Proceedings
Springer has issued a warning about 16 fraudulent submissions that were published in Springer conference proceedings, primarily in the fields of computer science and engineering.
SCIgen, computer software that generates nonsensical documents, was used to make the submissions. Dr. Cyril Labbé, a French researcher who published an article in the Springer journal Scientometrics on how to detect SCIgen-generated articles, notified Springer of this information.
Springer is now removing the papers as fast as feasible. Because they are all rubbish, they will be deleted rather than retracted. Once the papers have been removed, a temporary notice will be posted.
Furthermore, Springer is investigating our procedures to identify any flaws that may allow something like this to occur, and the company will make changes to guarantee that it does not happen again.
SCIgen detection system
To find papers that were written with SCIgen and submitted to conferences. The major publishers advise conference organizers to be aware of unprofessional and/or unethical behavior, such as submitting fake (automatically generated) papers, submitting two or more very similar papers (self-plagiarism, dual publication), presenting others' work as their own without proper acknowledgment, and using falsified/fabricated data. Therefore, it is advised to use the SCIgen detection system to check the submitted research papers.
SCIgen Source Code
The code for SCIgen is released under General Purpose License (GPL), and is now available via Github!
https://github.com/strib/scigen
Hope this article would help to know about what is SCIgen and why it is not accepted in a conference paper presentation.